My name is Shannon Soto and this is my story of finding my perfect dress!
My love, Marvin, proposed to me in May of 2014 on a gorgeous day at Wine Country Gardens in Defiance, MO – the beautiful place where we had our first date. Full of excitement and ready to plan, the very next week, my mom and I set out with the goal of booking the venue and the date. Just as we had hoped, we were able to book our special place, Wine Country Gardens for the wedding AND the reception. We were also able to book a date, September 19, 2014 (yes, only 4 months), which is the perfect time of year for an outdoor wedding!
Everything was falling into place and my mom and I were thrilled after booking my dream venue. We felt like we were on a roll, so we decided to go look at wedding dresses. She always told me to pick the venue first and then find the dress (wise woman)! I had an appointment at a bridal boutique for the following Saturday with my bridesmaids, but we were able to get into another bridal store that could see us that day. So we headed to Wedding Gallery in St. Louis, MO and it was just as fun as I had imagined!
I had an idea in my mind of what I envisioned (my "dream" dress), but I was also open to different styles. I had watched enough "Say Yes to the Dress" to know that it's smart to have an open mind. I tried on 4 dresses at Wedding Gallery. I thought that dress number 3 was it…it was way too big, but who doesn't need alterations, right? But it was dress number 4 that stole the show!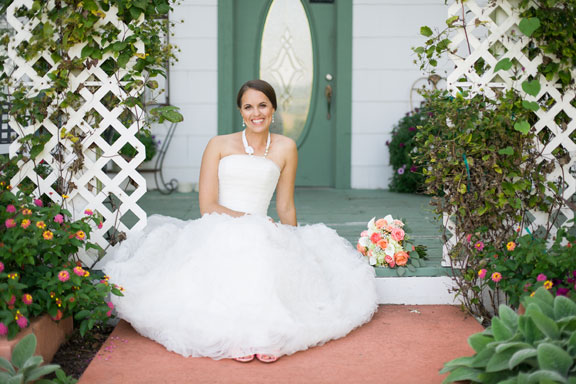 The lady at the store had chosen dress number 4 for me to try on because it was her favorite and as soon as I stepped out of the dressing room, my mom and I knew it was the one! It was almost identical to the dress I had dreamed of and even better, it's a one of a kind dress! No one else in the world has my dress! AND, I didn't need any alterations, as it was a corset bodice on the inside.
Not only did it fit like a glove, the flowing organza flowered skirt was perfect for our outdoor vineyard wedding. The skirt twirled beautifully all night long, which was great because Marvin and I danced the night away! To top it all off, it was super comfortable! This was THE perfect dress for me and I truly felt like the most gorgeous bride in the world!