I thought about eloping. I always thought this was some silly phrase that all brides say to be overdramatic about their special day. I didn't think it was a serious statement. And then it was.
Late one night, after reviewing 10+ different venues, emailing numerous caterers, balancing the budget, and can't keep track of what else, it dawned on me: this is ridiculous. All for one day!?! Balderdash. I'm not buying into this wedding industry nonsense. So, I did some research. Destination weddings, no reception, and… eloping.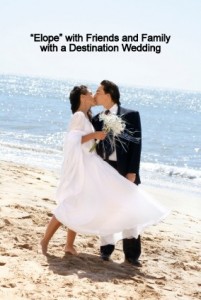 What could be more perfect? Just me and my man on some super amazing island. That's all I want – just us. And our families. And close friends.
So, I did some more research. Eloping (with our families and friends) is essentially a destination wedding. One problem: destination flights and hotels are expensive. I didn't want to burden anyone else. Hmmm… and the planning, emails, and budgeting continued.
If you are planning a destination wedding, here are some things to consider:
Flight prices and availability vary depending on day of the week and location
Different countries will be more affordable – Puerto Rico and Costa Rica were more cost effective
Weddings can be pro-rated or comped depending on how many guest rooms are reserved
You can explore a park or city permit (depending on location) and reduce expenses
You can book directly through a hotel or try a site like https://www.destinationweddings.com/
Whatever you do, do your research on marriage licenses and how to make it good and legal!
And even if your event is smaller than planned, your wedding dress will still be sentimental. Be sure to have it cleaned and preserved.  You will cherish it forever.