Do you have heirloom garments that you are unsure how to care for? Our awesome 100% natural, unbleached cotton twill wedding gown preservation bag will preserve all of your heirloom garments perfectly. It's acid and lignin free, protects the garment from light and dust and fits over almost every special garment:
Quinceanera dresses
Prom dresses
Academic regalia
Grandma's heirloom dresses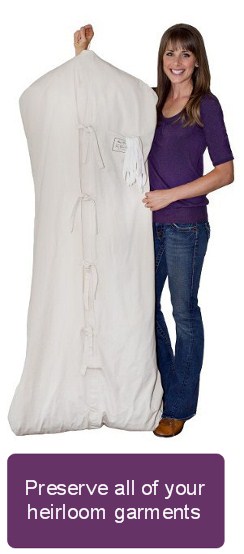 Almost everyone has one of these treasured garments in their closet gathering dust. No more, clean it and store it in our preservation bag for safe, acid-free, dust free keeping. You can also purchase our acid-free padded hanger to protect the shoulder seams from distortion.
But whatever you do, do not store your garments in the plastic wrap from the dry-cleaners. Most plastics emit fumes that will damage your heirloom garments. Dry cleaner bags are some of the worst culprits.
Our cotton wedding dress preservation bag has no zipper to rust or snag your garment. It has four sets of ties instead. There is a pocket on the front and a larger pocket on the back to save momentos and photographs as well.
So protect those valuable garments with our cotton garment bag. You'll be glad you did.