"I received my gown and it is beautiful!! Looks like new! Thank you so much for your expertise! Thank you again!" – Pat Parmer
by Pat Parmer
On April 7, 1957, at First Baptist Church in Pinckneyville, Illinois, I married my high school sweetheart Robert Parmer. He was between Great Lakes Boot Camp and his first duty station in Norman, Oklahoma. Perfect timing for a wedding!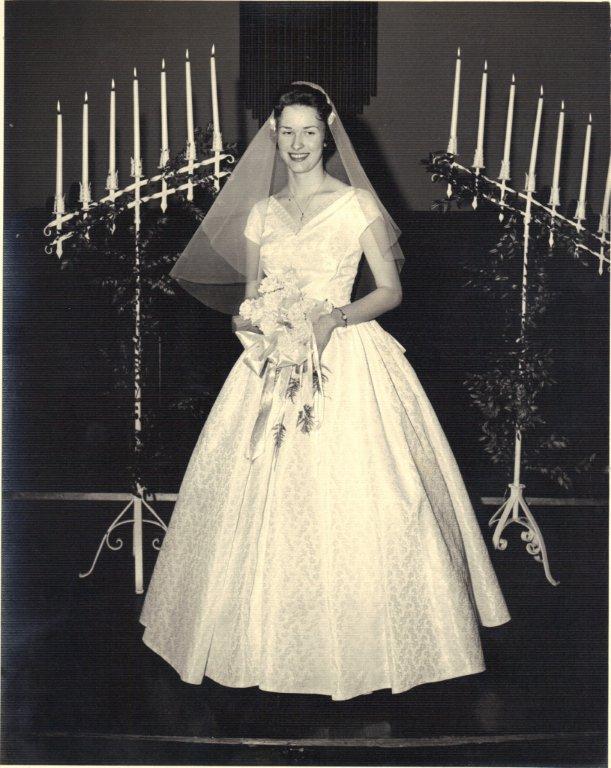 My mom and I sewed furiously on my gown. We bought the material in St. Louis for about $40. She was an excellent seamstress and would cut the skirt sections and I would pin them together and give them back to her to sew the seams together. My veil was borrowed and I wore crinolines under the dress (which I am sure we made also). My wedding gown was simple but beautiful and even in black/white pictures, the patterned design clearly shows.
Robert and I both graduated from high school in 1956 and we were together until Robert died on December 27, 2014.My dress traveled with us throughout the country — and I also have Robert's dress blues uniform! There is much I could say about the wedding in all of its glory, but our marriage was exceptional in the 57 years we were together. He was a fine man and I think he would be proud to see this beautiful dress honored in this way. And my mom would also!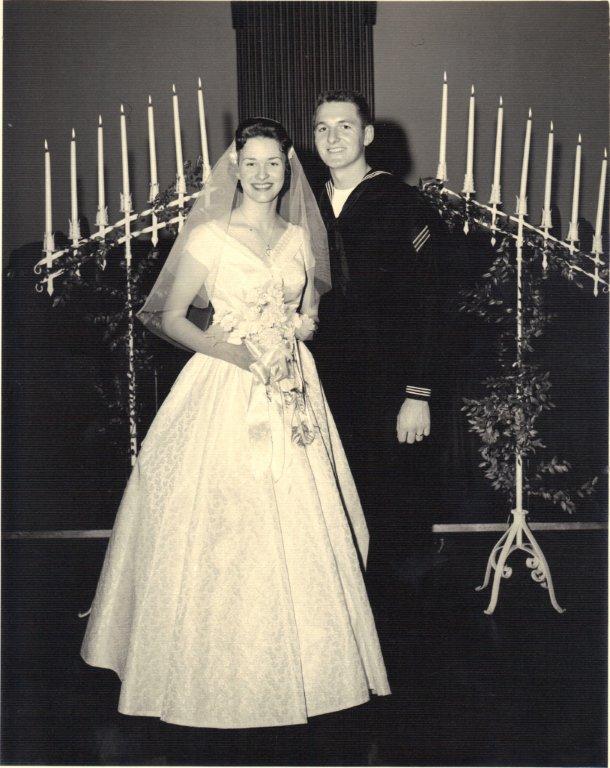 Thanks so much for sharing this with us, Pat!
Want to read more wedding gown stories? Read them here. Feel free to share your own love story or wedding gown story in the comments or on our Facebook page!