A Rustic Wedding
By Molly Kyle
I was married to David Kyle in this gown at Coyote Ranch in Coyote, California on October 12th, 2013. Our rustic, laid-back wedding was entirely outside. It was a large wedding with 32 children, 11 cakes and a smores table. My dress and shoes, Frye riding boots, felt perfect in the venue. I loved the way the dress twirled as David and I danced together to a live bluegrass band for the first time as a married couple. My brother and sister-in-law gave me my wedding dress as a gift which makes it even more special to me!
More about Molly's Wedding Dress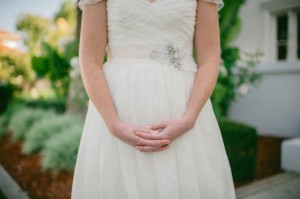 Molly's Amy Kuschel gown has a bellgown silhouette. Its large gathered skirt is full, but feels light. The dress has a sweetheart neckline and a wrapped bodice. The dress is topped off with sheer, lace cap sleeves and a small belt. The dress was perfect for Connie's meadow wedding.