Although most of us don't want nine white swans, almost every bride has to make some (or a lot) of compromises and sacrifices in the hopes of maintaining a realistic budget. Some sacrifices might seem minimal and others might be substantial. Whatever the budget is, every bride wants her event to look and feel beautiful.
Where to make cuts? There are certain items that can easily suck up a large percentage of your budget if you are not careful. One costly wedding must-have is flowers. Flowers can set the mood, enhance a theme, and provide beauty to your special day. They are also tradition! From walking down the isle to tossing the bouquet, a bride's flowers are an important accessory.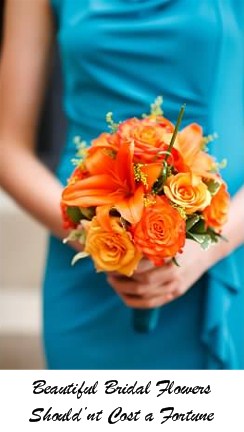 For both of my sister's weddings, we saved money by doing some of the floral arranging ourselves. My mother hired someone to make the bride's bouquets and a mock-up for the bridesmaids'. Family friends and members of the bridal party worked together to copy the bright and colorful bouquet for all 7 bridesmaids! We even followed the same plan for centerpieces. The first time around the arrangements were elaborate and time consuming! Lesson learned.
For the next wedding we hired a florist to make all of the bouquets, corsages, etc. and we only made the centerpieces ourselves.   The centerpiece arrangements for this wedding were simpler, yet classy and elegant.
Here are some tips to save money on flowers:
Choose flowers that are in season
Explore options of available flowers and pricing – some flowers will always be more expensive
Look for deals on Groupon, Craisglist, Etsy, or through a talented friend
Learn how to make your own bouquet on Pinterest or YouTube or other websites
Costco sells very basic wedding flowers online as well as some basic centerpieces.
If available, visit local wholesale flower mart
Keep it simple and classy
Explore alternative options to flowers… more to come
You can preserve your bouquet after the wedding in an acid/lignin free bouquet preservation box. First hang the bouquet to dry for several weeks in a safe location. Then place your bouquet in the preservation box with acid-free tissue.