This month Save $25 if your gown is synthetic (not silk!).
Our discount is good for both Heritage Select™ and Heritage Couture™ wedding gown care. Just use coupon code: NotSilk for $25 off! (Minimum purchase of $298)
What fabric is your wedding dress made of? If you answer satin, you are actually identifying the fabric weave and finish of your dress fabric but not the fabric fiber itself. It's a common mistake that we see all the time. Actually, there are polyester satins, acetate satins, and of course, silk satins. If you aren't sure, check your gown care label.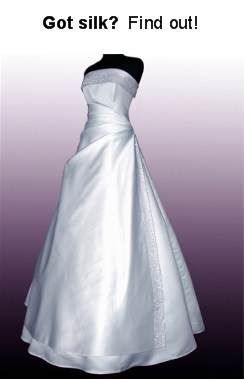 By law the garment care tag should identify the fabric fiber because the cleaning methods and chemicals used will be different for different fabrics. Unfortunately, many of the tags get removed during alterations. There are other ways to tell though.
A quick test may be the cost of your wedding gown. Most wedding gowns under $2000 are synthetic fabrics. And most gowns over $2000 are made of silk fabrics. However, recently we have been seeing a number of beautiful designer gowns way over $2000 that have been made of synthetic fabrics. Some of these fabrics are so "silk" like that it is very difficult to tell that they are not silk. So the price test is not a definitive test.
You can check your wedding gown designer's website for the description of your wedding gown. Generally, if the gown is silk, it will say so, as silk is a luxurious fabric that will give added value to the gown. But if the description says it is "satin" or even "silky satin" it is likely not silk as "silky" can be an adjective describing the sheen of the synthetic satin.
Another way to determine the fiber content is the "burn" test. You can cut a small sliver of the fabric in question, hold it with tweezers and light it on fire. Silk responds very specifically to the fire. It will burn in spurts, smells like burning hair and leaves small crush-able ash. Polyester (a common synthetic satin) does not burn, but melts instead leaving a very hard, un-crushable bead (think plastic.) Rayon will burn rapidly and smells like paper (think campfire.) Acetate does burn, smells like vinegar and leaves a hard bead.
Why does it matter?
Knowing the fabric fiber helps us determine the safest and most thorough chemicals and cleaning methods for your wedding gown. And this month you can save $25 on your wedding gown care if your dress is synthetic (not silk.) Just use coupon code: NotSilk for $25 off!
So, check your gown care label or the online description of your gown and see if it's silk! If in doubt, we would be happy to test it when we receive it.