If your wedding was like my daughter Robyn's recent wedding, there were many opportunities to get your wedding gown very dirty: the wedding, photos, the reception, etc.  We also had a luncheon after the wedding featuring red italian pasta sauce – just daring my daughter to keep her gown clean.  But that was not all, we celebrated at two different receptions (one here in California and one in Virginia.)
After each event, my daughter's dress definitely needed attention. Fortunately for her, my business is cleaning wedding dresses, so I handled everything from spot cleaning food spills, hemline cleaning after the first event, to a complete cleaning after the first reception and before the second reception. Wow, a lot of work for just one garment.
What about you?  I am dying to know how everyone else handles their wedding gown between events.
Did you take your dress to the cleaners between events?

Were you impeccably clean and careful so you made no messes?

Or did your Aunt Betsy jump in and touch up the messes?
Please tell us what kind of care your wedding dress received between events and I will send you an coupon for $25 off your wedding gown preservation.   I'm dying to know how you did it!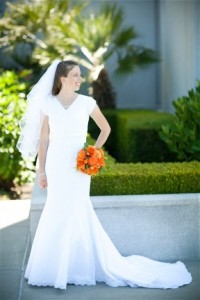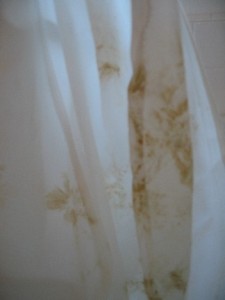 Robyn after wedding
Great photos by

M Portraits

What a mess! Hemline after Virginia reception