A Wedding Dress Story
By Chri Holmgren
My wedding gown is more than I could imagine it to be. I had no idea what kind of dress I wanted as I walked in to David's Bridal but I knew it had to feel right. My best friend came with me and we had a blast (we always do).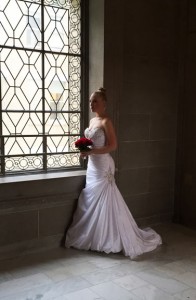 I tried on several dresses and they were all very nice. I felt incredibly beautiful in them and then, I tried on THAT one and it felt different. I saw myself in the mirror and out of nowhere I felt like I wanted to cry. Cry because it felt right! I just knew this was the one. I chose to wear it with deep red flowers and deep red shoes. I wanted the traditional white dress with a kick to it.
I had my wedding dress altered by taking it in on top and letting it out around the hips. After a couple weeks I went back for my dress and they had made it better than perfect.
On November 19th 2014, I married the best man I've ever met and love at City Hall in San Francisco. A moment in life I cherish dearly.