Have you ever wondered how we can take an old, soiled wedding dress and make it look brand new again? We're proud of our process– so we're going to let you in on exactly what happens behind-the-scenes at Heritage Garment Preservation.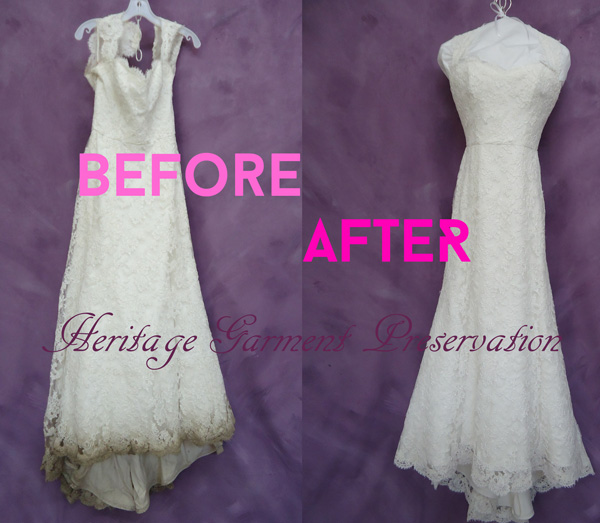 Take this dress, for instance: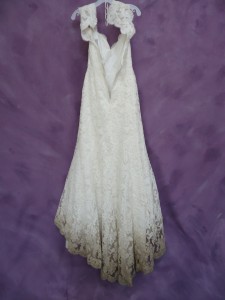 When this dress arrived, we had the following information:
"Designer: Liv Harris
Fabric: Lace
Color: Off-White
Description: Sleeveless. Lace straps. A-line. Zipper closure on back. Small train. Veil: single tulle w/scalloped lace on edge. Metal comb."
It didn't take long for us to realize that there was some work to do after observing the following:
"Condition: Make-up/perspiration on bodice, underarms, straps. Severely dirty hemline, lining (mud, water marks), all layers. Bustling system marked w/pen. Some safety pins lifting dress on back."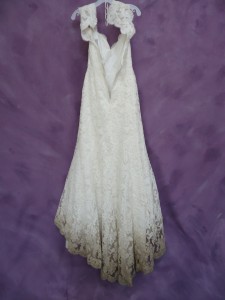 From there, our professionals were able to prescribe this treatment:
"Treatment: Remove breast pads, safety pins and trim pen mark on bustling to avoid "bleeding" during wet cleaning. Chemical soaking of hemline as needed so as to not look dingy. Hand clean gown using a wet process. Spot clean veil. Hand press gown and veil.
Red Flags: Delicate fabric, extremely dirty."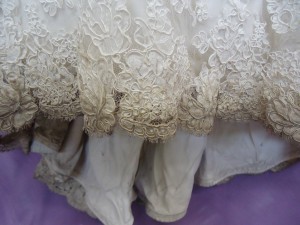 The dress was diagnosed and treated accordingly to produce this: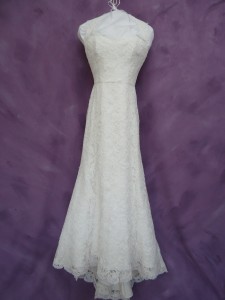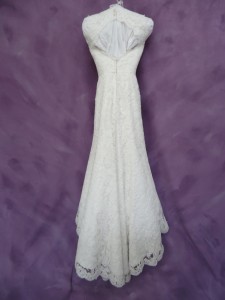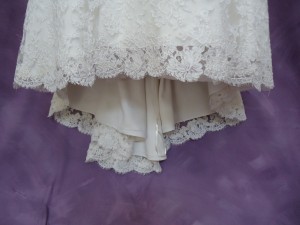 And that's it! The only surprises you'll get from us is your dress returned stronger and more beautiful than before.
[box3]
Want to learn more?
[/box3]