5 Tips For Wedding Gown Cleaning and Preservation
Getting wedding gown cleaning and preservation for your wedding dress soon as possible after your wedding ensures that your bridal gown remains in the best condition. But, there are many bridal gown preservation options available, all claiming to be the best. It can be very confusing. This report is designed to help you make the best educated decision on the care of your wedding gown.
This report should only take about ten minutes to read and will cover why wedding gown cleaning and preservation is important, how museums preserve their heirloom dresses, the different cleaning solvents dry-cleaners use for wedding dress cleaning and the pros and cons of each one – which is safest and which you should avoid. Also discussed are the goals of wedding dress preservation, the different methods of preservation available and the benefits of each.  So take a few minutes to learn before your decide who you should trust with your wedding gown care.
Why Wedding Dress Preservation is Critical Learn why neglected wedding gowns run the risk of yellowing and developing brown oxidation spots.
Determining the Best Wedding Dress Preservation To choose the best wedding dress preservation method, learn how museums preserve heirloom dresses.
Wedding Gown Cleaning Learn if you can trust your local dry cleaner with wedding dress cleaning with the right questions to ask. Discover which solvents are safe for wedding gowns…

Wet cleaning
Dry-cleaning solvent options
Petroleum based solvent
Essential questions to ask to find the best cleaner for wedding dresses

Wedding Dress Preservation Discover the goals of wedding dress preservation and how to best achieve those goals…

Prevent Yellowing
Permanent Creasing Risks
Mildew and Mold Risks
Prevent Oxidation spots
Light and Dust Protection

Wedding Dress Preservation Options Learn the three types of wedding dress preservation and the benefits of each type…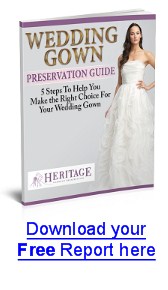 Learn about Heritage Garment Preservation – The Wedding Gown Preservation Company who provides TLC to your wedding gown.
Part 1: Why Clean and Preserve Your Bridal Gown? >>
Average rating:
3 reviews
Dec 21, 2015
Money Well Spent
Let me tell you what, I did quite a bit of research trying to find the best place to clean and preserve my wedding dress. Heritage was the only place that I found that preserved dresses like museums would preserve Victorian gowns. I was very pleased with their customer service. I had an address change during the process of preserving my dress, and they handled the change in shipping information very well. When I received my dress, I was almost in tears. I was so happy with my results. My dress looked brand-new again! My hemline had quite a bit of staining from walking on asphalt for pictures downtown, but there is no evidence of any of it! They even included an acid-free insert to include a wedding photo and your love story! What a lovely touch. I highly recommend using Heritage for cleaning and preserving your gown! You will not regret it! Money well spent!
Nov 19, 2015
Perfect Process
Heritage did a 5 star job. The whole process was flawless. I felt at ease from the beginning because they keep you informed along the way. Very professionally run business. The cleaning job was perfect. Even the packaging showed how much care the company took with my daughter's wedding gown. I could not have been happier with the result and would not hesitate to recommend Heritage.
Mar 25, 2015
Awesome Company!
Heritage is an excellent company! My wedding was out side and the hem of my dress was very dirty. I was super nervous that the stains wouldn't come out. I was also weary to ship my dress across the country for services. However, Heritage was the best choice I could have made. The employees were friendly and easy to work with. The cleaning services were fantastic and turn around was super quick. My dress came back completely spotless! I am so glad I chose Heritage!