We received this beautiful vintage wedding gown, along with a mantilla veil, and a long veil.The wedding dress was around 30 years old and was designed by  Teeny by Priscilla.  The fabric is lace over acetate duchess satin.
Vintage Wedding Gown Details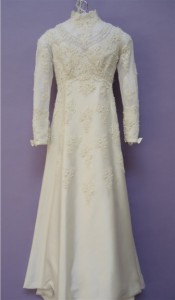 This vintage wedding gown with lace appliques  over the  tulle on bodice and sleeves had yellowed evenly on the front of the gown and several other areas as well.  The lovely mantilla veil with lace trim and pearls had also yellowed quite a bit.  The separate long veil was also yellow.
Wedding Dress Restoration
We hand cleaned this long sleeve vintage wedding gown, and followed with a chemical treatment to whiten the gown and veils. Because the buttons were metal, they had to be removed and treated separately, and then sewn back on.  The dress and veils were hand pressed and preserved with Museum Method™ preservation when finished.
The restored vintage wedding gown  is beautiful.  An heirloom vintage wedding gown is always a priceless piece of clothing and we are thrilled to help our customers preserve their treasures.