Our daughter, Amanda DePriest, looked absolutely stunning in this Amsale Bijou wedding gown.
I can still remember the sound that came from the guests at her courtyard wedding
August 30, 2014. It was simply a chorus of sighs from all.
The gown is part of the Amsale Blue Label, which is a prestige collection of couture gowns.
These gowns are the highest in quality and style. This Bijou gown was worn in the runway color of "cafe". It is a ball gown made of silk rouched bodice with a drop waist and handmade and hand sewn taffeta and organza flowers.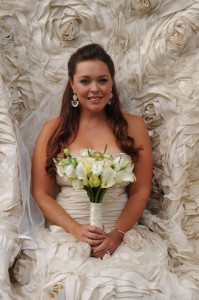 She had flown to New York, NY to visit the Amsale flagship store on Madison Avenue to specifically try on this gown. We ultimately purchased the dress at Jacquelines Bridal in Rochester, NY for $8,900.
We are now trusting Heritage to return the dress to its pre wedding beauty so that she can always bring it out, and remember how amazing she looked on her special day.
By Linda DePriest