Wedding Dress Story
By Monette M.
My mother and father got engaged during World War II and my father was going to be shipped overseas, so they needed to be married very quickly and were on June 27, 1943. My mom told us that she bought the dress in San Francisco at a bridal store (I don't know the exact name) and that it was on the sales rack.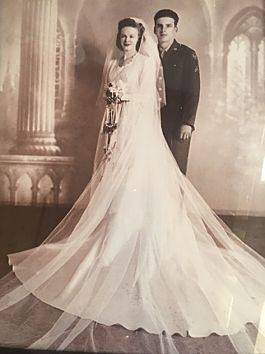 She would pull it out of her hope chest every year on their anniversary to try it on, and it always fit. As the youngest of their 5 children (the oldest was a son and then they had 4 girls), I always knew that I wanted to wear it. None of my other sisters ever showed or had a desire in wearing it. I got engaged in October of 1982 to my high school sweetheart, and we married on May 28, 1983. I knew it would fit because I was the same size of my mother, so I never even tried on any other wedding dresses.
We pulled it out of the hope chest, once again, three months before my wedding to try it on. Not only was the dress never cleaned or preserved, it had been rolled up in a ball for 40 years. For some reason it escaped our memory that the dress had a large mustard stain on the train! We took it to a very reputable, family-owned cleaners, Virginia Cleaners, and miraculously they got the stain out.
My mom had borrowed her veil from a friend, so we had a replica of it made at I. Magnin's, a very high fashion and specialty store in San Francisco. She was so proud that I wore her dress on my wedding day and so was I.
Fast forward 36 years, and my sweet Megan got engaged to her love of 6 years. I never even entertained the idea of her wearing our dress, nor did she ever express any interest in wearing it. Shortly after she got engaged, we started looking for wedding dresses.
When she was home for her engagement party in October of last year, we thought it would be fun to just try it on, and something clicked inside her when she put on the dress! When her dad and older brother saw her in the dress, they loved it as much as we did. She asked me if she could make some alterations and of course I said, "You can do anything you want to it!"! It was a dream come true for me that she might be able to wear her grandmother's and mother's wedding dress which will be 76 years old when she marries on August 17, 2019.
To add a little bit more to this story, as part of her engagement/wedding ring combination, she is wearing her great grandmother's wedding ring which after her passing, my mom wore every day until she passed away. The ring is 111 years old this year!
Monette's Wedding Gown Restoration
Monette's vintage ivory wedding dress has a cathedral train and satin decoration. And her family heirloom wedding gown was yellowed with rust colored spots on her family heirloom wedding gown.
Before

After
The right sleeve had a tear in it and the fabric is thinning in several areas. The gown's train also had multiple small holes at the end.
Before

After
Heritage Garment Preservation treated the treasured gown in a mild treatment to whiten the color and remove oxidized stains. The metal snaps were removed before treatment to prevent rusting and replaced once the gown was restored.
Before

After
Monette chose Heritage Select™ Wedding Gown Restoration . No two gowns are the same, so our restoration process handles each gown uniquely based on its age, fabrication, and condition. Our team at HGP gives each dress extensive and detailed care to achieve the best possible results.
Vintage gowns are always somewhat fragile, but our team was able to restore this 76 year old timeless treasure for Monette's family.
Do you have a gown that needs wedding dress restoration? Or wedding dress preservation? Get a Free quote today and let our experts take care of your dress with the same tender loving care.