A Wedding Dress Story
By: Cheryl F.
"My wedding gown story began in May 1969 when I became engaged and started looking for a wedding gown for my November wedding. I first went to a bridal shop above a jewelry store in Ontario, CA. I tried on several gowns and found one I really liked but since it was a summer gown, it had to be ordered within a few days.
I couldn't decide if it was the 'one' and wanted to look around at other shops. The deadline for ordering came and passed and I still had not found a wedding gown that I liked as well. At that point, I had decided I would make my wedding gown to be similar to the one that I didn't order. I was looking at fabrics, lace and patterns when I got a call from the bridal shop.
The gown I liked had been ordered by another bride but she had decided she did not want the gown and cancelled her order before it was ever received by the shop. The gown was in my size and they told me her deposit would be applied to the purchase of the gown. For me, it was a sign the gown was meant for me.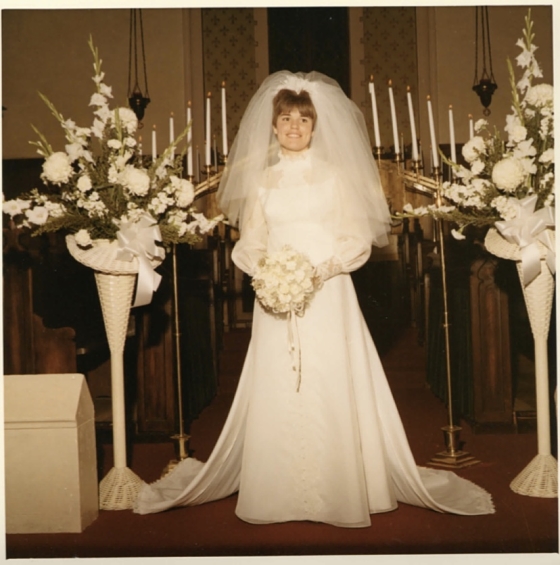 I moved away from Ontario and for probably 20 years, my wedding gown hung in a closet at my parent's home. It had never been cleaned and the bag it was in was ripped and the gown slowly yellowed. For the next 29+ years, it was improperly stored in a box in a closet in my home and still never cleaned.
This year my husband and I celebrated our 50th wedding anniversary. As were planning a celebration party, thought it would be fun to display my wedding gown. When I pulled it out of the box, I could not believe how yellowed it was. I started researching cleaning yellowed gowns. I submitted a request for a quote and Chanda called me.
I was a little dubious that my wedding gown could be restored but it was. A few repairs were made to the underarm area. Chanda was even able to clean the 47 buttons down the front and on the cuffs.
I could not believe the gown could be restored back to white. We had it on display at our party and I received many comments. It's nice to know that it is being properly stored and preserved."
Cheryl chose Heritage Select™ Wedding Gown Restoration for Slim Style Gowns with Museum Method Preservation. No two gowns are the same, so our restoration process handles each gown uniquely based on its age, fabrication, and condition. We are thrilled with her before and after results!
Our team at HGP gives each dress extensive and detailed care to achieve the best possible results. Cheryl also chose a custom preservation label saying "This dress was worn by Cheryl S. November 8, 1969 When she married Terry F. In Upland, California"
Do you have a gown that needs wedding dress restoration? Or wedding dress preservation? Get a Free quote today and let our experts take care of your dress with the same tender loving care.