A Wedding Dress Story
By Erica White
This wedding gown was worn by Erica White when she married Anthony Layton in Detroit, Michigan on October 1 2017.
The gown was purchased at Bridal Solutions in Kansas city Missouri (where the bride lives).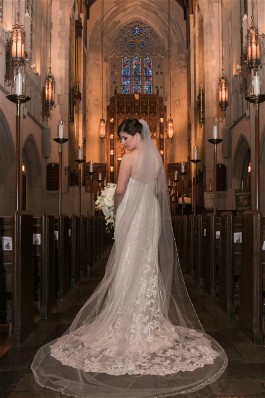 Since we were planning a wedding in Michigan I had already made plans to shop for my dress back in my home state of Michigan when I went home for Thanksgiving.
I had already made appoints at Michigan bridal salons with my mom, aunt and two sisters. However I went to a Kansas city Area bridal show and picked up a flyer for a Bridal Solutions in Kansas city whose owner was retiring after 20 years in the bridal industry.
The hot pink flyer said entire store 50-70% off so I stopped in just to "look" with one of my KC bridesmaids and found this dress. I fell in love it at first site! It was literally the first dress I saw hanging up on a hook by the register. I passed it and said "oh I like that one" but walked by and proceeded to try on several dresses before asking the sales associate if that one up front was on hold or sold. Luckily it wasn't and the rest is history!
My Mom and sisters were a little disappointed that I found a dress in KC without them, but once they saw the dress they understood.
Erica's Wedding Dress Preservation
Erica's ivory colored Kittychen Couture wedding dress with embellished embroidered overlay had a severely dirty hemline when we received it. There was also a broken button on the bodice and the gown was missing the bustle button.
We gave Erica's gown hemline a chemical pre-treatment and extensive wedding dress cleaning by hand. We were able to return her gown to pristine condition. We also replaced the missing bustle button.
After the thorough wedding dress cleaning and repairs, Erica's gown received museum quality Heritage Box™ preservation. This preservation is acid-free and lignin free and will keep her gown looking beautiful for many years.
Get a Free Quote for your wedding dress preservation today.