A Wedding Dress Story
By Nikki Cole
Nikki met Joan Roberts, who was the Director of Sales at Kleinfelds in New York City at a wedding in 2011. Nikki and then boyfriend, Jason had a great visit with Joan and her husband and Joan encouraged Nikki to give her a call when she got engaged as she would love to help her select a wedding gown.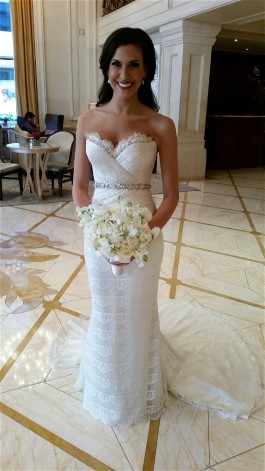 It was several years later (2014) when Nikki got engaged. She doubted Joan would remember her so she went on her own to the Kleinfeld Bridal store in New York City. But Joan did remember her and gave her a big hug when she saw her and then gave her the royal treatment. She introducing her to her bridal consultant Lisa, who helped her select many dresses to try on.
Her favorite gown  was a Mark Zunino sample wedding dress, that somehow fit perfectly with any adjustments at all. The sales people were astounded, because sample dresses seldom fit so well. Mara Urshel, the owner of Kleinfelds even participated in the final decision, and Nikki purchased the gown.
Then Joan arranged a fantastic surprise. She spoke with the designer who sent Nikki a hand sketch of her wedding dress and arranged to attend Nikki's 2nd fitting in NYC himself. The whole wedding dress selection experience was perfect.
Read more about Nikki's amazing wedding including her scuba diver proposal at Disney World at:
http://www.greatperformances.com/blog/pure-joy-happiness