We love the beautiful dresses that come into our shop each day. They are all different and each has a story and a unique bride behind it. We are often able to tell quite a bit about that wedding by the wear and tear of the dress itself. Outdoor wedding dresses are notorious for very dirty hemlines. It's no real surprise, since wedding gown trains serve as an unofficial dust mops for the wedding or reception area. One of our greatest thrills is to watch the process of a soiled gown return to great condition.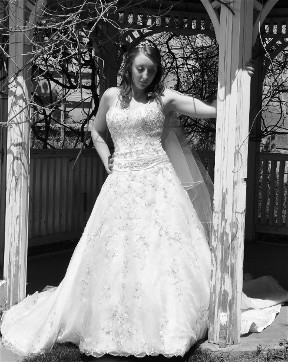 We recently received a beautiful wedding gown from Linda Mumford of Salt Lake City. She had an outdoor wedding and her gown was definitely impacted. But fortunately her dress was made primarily of polyester fabrics which definitely helped us return her dress to it's original beauty.
Polyester Fabrics have come a long way over the years. Some look so similar to silk gowns that an expert eye or lab testing is required to tell the difference. But polyester fabrics are less delicate than silk and we can be more aggressive with it while cleaning. This is why we heartily recommend polyester dresses for outdoor weddings.
Although Linda's dress had serious hemline soiling, our skilled staff was able to clean it thoroughly. We were thrilled with the results and so was Linda. A wedding dress is just too valuable, both in costs as well as sentiment, to be disposable. Some young woman in the future will be able to wear her gown. If not, it will always be a treasured memento to Linda of her special day.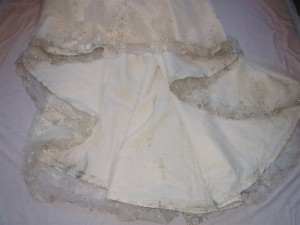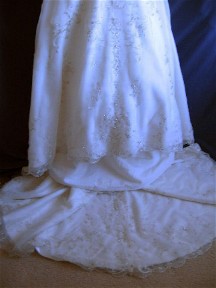 Hemline After Cleaning (click photo for a closer view