I bought the wedding dress at Miss D's of San Carlos.  It was a quaint little store, packed with thousands of beautiful dresses. It was my dream dress.  I had tried on literally hundreds before I found this one.  I was a little worried about the price of the dress.  23 years ago I paid $760 for it.
We were married at Northbrae Church in Berkeley and had our wedding reception as H's Lordships at the Berkeley Marina. After the wedding, I did took it to a cleaner in San Carlos that specialized in wedding dress cleaning and they preserved it in a box with UV plastic so I could look at the bust without taking it out.  My box lived in my dads house in San Carlos for many years until I got a house of my own in 2000.
I stored my dress in my bedroom, behind a bookshelf in the corner of the room where it was out of the way.  Didn't think too much about it as we had two small kids.  Well, when it came time to remodel out bedroom and pull the carpeting out, I pulled the box out and it practically disintegrated in my hands.  What had happened?  Figured out that at some point in time, the termites that were living in our backyard and climbed up into our walls and found the cardboard to nibble on.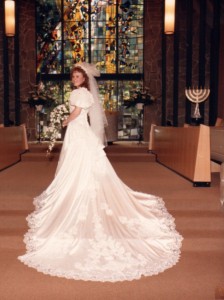 Crushed, I put the dress in a white plastic bag and stored it out in the garage until I figured out what I was going to do with it.  Could it be cleaned?  Would my daughter even want it?  A couple of years passed and I decided to try 'cleaning' it myself to see if it was even possible."I gently started working on the bottom of the dress and found that this task was much too big for me to take on.  I did a little research online, looking for a local bridal gown restoration place to take it to and I found Heritage Gown Restoration.  I was passing through Benicia anyway on my way to Vacaville, so I dropped it off and crossed my fingers that they could somehow work magic on my dress to make it look as close to original as possible, or at a minimum, salvage parts of it to put on another dress.
When the first pictures came back of a sample area they had cleaned, I was over joyed at the work they had done.  Where there was once a black patch of termite excrement was white wedding dress!  They did work some magic to get it cleaned.   Having my dress cleaned and sterilized will be a dream come true.  I thought for sure it was headed for the garbage can when I found it in my bedroom.
My husband proposed on Christmas Day, 1988 and we got married on May 26, 1990.  I may have to wear it again for my 25th wedding anniversary!
Connie C.
Pleasant Hill, CA
Wedding Gown Restoration by HGP
We were thrilled to see the amazing results of this wedding dress restoration. There was some permanent damage on the lace of the train, but the rest of the wedding gown looks perfect. What looked to truly be hopeless was cleaned and restored by Jennifer with a lot of hard work.