When Laura slipped on her sleeveless Vera Wang, she just knew that her wedding day would be one to remember. What she didn't know is that her wedding dress, as she remembered it when she slipped it on that happy morning, would not be the same after a long ceremony and hours of reception festivities.
The day of the wedding is the happiest day of a bride's life, but that day is not an easy one; navigating through large groups of people, decorations, and refreshments for several hours throughout wedding festivities can leave a wedding dress with all sorts of sweat, spills, tears, and makeup stains (from the bride herself and from her emotional and all-too-anxious-to-hug-the-bride guests).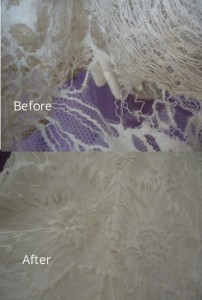 Laura's dress was no different. When her dress arrived at HGP, the beautiful floral designs in the lace were hard to make out in some spots due to severe tears. It appeared to be in shreds. The elegant train was dirty and the hem was coming undone, and the stains on the bodice from a day's worth of "glistening"–okay, let's be honest ladies, SWEATING– were hard to ignore. It's no surprise that such a delicate dress had endured so much– what a day!
Luckily for Laura and her delicate dress, Heritage Couture™-level attention not only removed all of the stains on the gown and the veil, but the tears in the intricate netting were able to be hand-repaired. In addition to restoring Laura's wedding dress to it's former glory, the love and care provided in the Heritage Couture™ service made Laura's dress stronger than ever by providing archival muslin, and preserving the dress in a breathable, acid-free/lignin-free Heritage Box™ for extra safety and convenient storage are a few of the personal touches added to Laura's designer gown.
Restoring Laura's wedding dress with extra Heritage love will make Laura's wedding day come to life every time she opens the box.