Wedding Dress Story By Christina D.
Every little girl always dreams of the day she gets married and by the time that day comes – the details of that special day are already a vision that just needs to be brought to life.  My story is no different.  I always dreamed of a sparkly ruffled dress with a picture perfect background with flowers that compliment perfectly.
The day I met my now husband, I knew he was the one.  Four months later he proposed at the Luke Bryan concert during our song, Play it Again.  We wasted no time in securing a location for September 26, 2016 at Poetry Springs and the wedding planning was officially underway.

First things first – Dress Shopping! The first place I went to was Demetrio's in Frisco, TX.  I browsed the store selecting several dresses to try on, however there was one dress that I just loved on the hanger and fit into my vision just perfectly.  Once I had a few dresses lined up to try on, I headed back to the fitting room.  Of course I tried on my most favorite one first.  The moment I saw myself in it, I knew this was the one I wanted to say "I Do" to my future husband in.  My dream was shattered when I was told the price of the dress and realized it was over my budget.
Wedding Dress Shopping
Days went by as did many dresses and local Dallas Bridal Boutiques.  I did find several dresses that looked great and could be an option for that special day, just I kept thinking about that perfect dress at Demetrio's.  After considering all my options and the cost of customizing or accessorizing many of the other optins – they too were creeping out of my price range.  So I decided to go back to Demetrio's and take my Maid of Honor and get her opinion.  The moment I stepped out of the fitting room – we both had tears running down our cheeks and that's when I knew it wasn't just me – that it was THE DRESS.  To get the final blessing, I made a follow up appointment for the following day for my grandmother to come with and she approved and I purchased the dress that day with a complimenting Swarovski Rhinestone. No major changes had to be made to the dress other than the hem line and tightening up the bust area.

Wedding Day Arrives
Finally our long awaited wedding day came on September 26th where I married my best friend and my vision became a reality!  The day turned out more beautiful than I could have ever imagined!  I wore my dress with wedding boots (no way I was making it all day in heels) and a camo garter.  I had my something old and borrowed (pearl earings), something new (my dress) and something blue (my satin pearl blue sparkly shoes and just married written on my underwear in blue).
One year later we headed off to Riveria Maya, Mexico to celebrate our 1 year anniversary.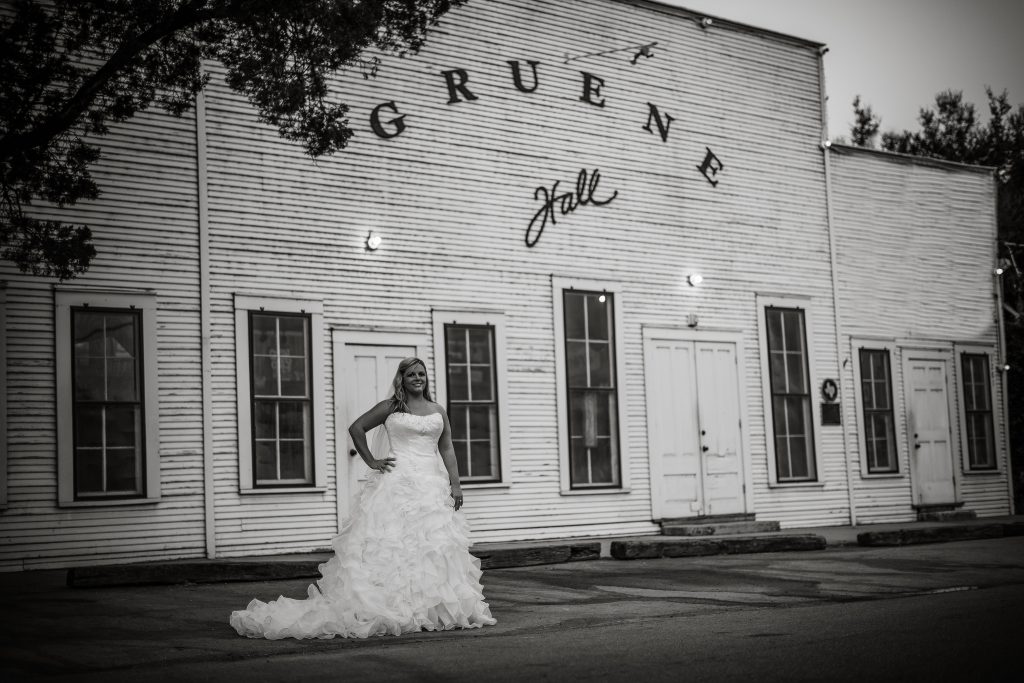 Thanks so much for sharing this with us, Christina!
Want to read more wedding gown stories? Read them here. Feel free to share your own love story or wedding gown story in the comments or on our Facebook page!