Something old, something new…Passing down heirloom garments is a wonderful tradition that you can start yourself. A simple bridal handkerchief can be turned into a baby bonnet, and then back into a wedding handkerchief when the baby grows up. Simple and sweet.
We recently cleaned and preserved a precious christening gown with several bonnets for one of our customers, Heather H. One of the bonnets was indeed constructed from a handkerchief.  My own daughter will be getting married in August and I will be sure that she carries a beautiful handkerchief just for this purpose.
Take a look at the photo of heather's bonnet to see how simple it looks. Click on the photo for a close up. You can find instructions to make this bonnet at: http://bumblebeelinens.com/hankiebonnet.php Heather sent me this poem about the handkerchief bonnet.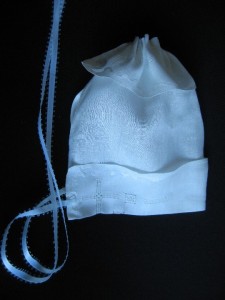 TREASURE HANDKERCHIEF BONNET POEM
by unknownI'm just a little hankie
As square as can be
But with a small stitch or two
A bonnet I will be.
I'll be worn from the hospital
Or on my christening day
And after that be folded
Then carefully put away.
When on that future wedding day
So we've always been told
The well dressed bride must always
Wear something that is old.
So what could be more fitting
Then to find little me
And with a few fine stitches snipped
A wedding hankie be.
And if perchance it's a boy
Someday he'll surely wed
Then his bride can have the hankie
Once worn upon his head