When this bride slipped on her sparkling, ornamented gown, we're sure she knew her wedding day would be one to remember. What she might not have known is that her wedding dress, white, shining, and perfect as it was on the day of her wedding, would not be the same after the festivities or years later.
When her dress arrived at HGP, it was wrinkled, yellowed, stained, and just felt old. While vintage is all the rage, no one wants their dress to have a vintage smell! 🙂 The intricate beading was barely holding on, half of the dress was yellowed, and the stains were hard to ignore.
Luckily for such a well-loved, beautiful dress, Heritage Couture™-level attention not only removed all of the stains on the gown, but the dress returned to its original whiteness. In addition to restoring the gown to it's former glory, the love and care provided in the Heritage Couture™ service made it stronger than ever by preserving the dress in a breathable, acid-free/lignin-free Heritage Box™ for extra safety and convenient storage.
Check out these before and after photos to see the gown go from just old to vintage and bold!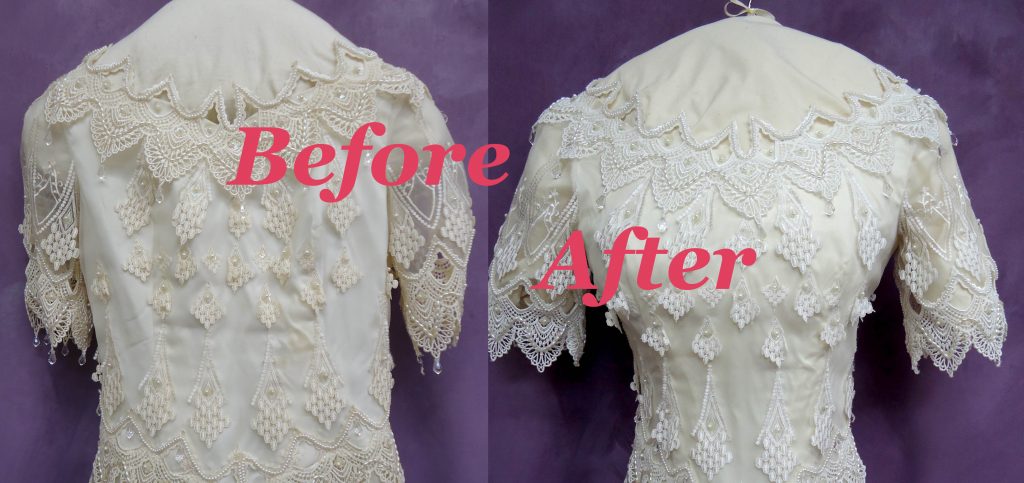 BEFORE

AFTER!

OUR GUARANTEE
You will enjoy peace of mind knowing that we stand behind our preservation processes. Heritage Essentials™ orders receive a 20 year warranty. Our Heritage Select™ preservation offers a 30 year warranty against yellowing. Heritage Couture™ preservation offers a lifetime warranty against yellowing, oxidized spots, etc. We also offer a 30 day satisfaction guaranty as well. If you are not satisfied with our service, you may return your wedding gown to us to be serviced again. We want every customer to be a happy customer.
Do you have a gown or other important heirloom you'd like restored and preserved? Check out our packages here. Want more before-and-afters? See more transformations here, on our INSTAGRAM, and on our Facebook page!