A Wedding Dress Story by Barbara Woodhouse
My wedding gown was sewn in summer and fall of 1967 by my mother, Anne Wolfe Bennett. She was a musician by profession but a truly gifted seamstress by necessity. In those days, it was still far cheaper to sew than to buy a garment. Mom made her own wedding dress, and she made all my clothes while I was growing up including school dresses, prom gowns and even theater costumes. She had been looking forward for years to making a wedding gown for me. We decided on a pattern (which I still have) that was classic 1967, with long sleeves and a train.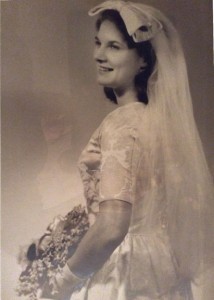 Working with a very tight budget, we went to a fabric outlet called Calico Corners where you could buy gorgeous remnants (leftover material) for pennies on the dollar. We both fell in love with cream-colored French silk brocade intended for making drapes. There was not enough in material for our pattern, so we decided to forget the train and make a floor length version, with elbow length sleeves. The pattern called for more than thirty tiny satin covered buttons to close the back of the dress, and Mom made every one of them by hand, as well as each of the tiny satin loops used to button them. She threatened me with death if I gained weight in the weeks before the wedding and she had to move the buttons. Out of the last scraps of fabric, she created a Dior bow to hold a stylish bouffant veil edged in lace hand made by my great grandmother, Annie Ferguson.
My husband Charles took the photo above of me in the dress in 1971, at a family farm in New Hampshire. I had put it on to show our daughter, then 2 years old. That was the last time we saw my dress. My mother-in-law had kindly offered to store it in her New Hampshire attic for safekeeping since we had no permanent address. We moved 9 times in our first 5 years of marriage, what with military deployment, graduate school and new jobs. When we finally bought a home of our own, we searched my mother-in-law's attic in vain. The dress had vanished.
It's creator did not cry over split milk and continued to sew for the rest of her 84 years, creating baby quilts, countless party dresses, and even a three-piece suit for our son as well as a dress for her own 50th anniversary party. Sadly, by the time our daughter married, the sewing Grandma was gone. Thus she became the first bride in our family to wear a store-bought wedding dress.
My lovely mother-in-law lived to age 94, and passed away in September. That is when our son, who had gone to New Hampshire to help out during her illness, found a wedding dress while organizing her things. He thought he recognized it from family pictures and as soon as he mentioned the tiny covered buttons, I knew it was mine. By some miracle, it had spent 45 years on a wire hanger in a flimsy plastic bag in remarkably good condition. Other than an oxidation stain on the skirt and a few covered buttons that had been nibbled by mice, it was untouched by time.
Our son brought the dress back to Florida where we now live in his eighteen-wheeler. I would wear it to dance at my own 50th anniversary coming up in 2017 but that slip of a girl is gone. At age 70, I may have lost my girlish figure but I have kept the same wonderful husband. He, too, was thrilled to have the dress back. I contacted Heritage Gowns and they suggested that even if I could not wear it, we might want to display it at our 50th anniversary. We think this is an inspired idea. Before I sent the gown to Heritage for restoration, I showed it to our four-year-old granddaughter. She is a connoisseur of dresses fit for a princess and she pronounced it "beautiful." My mother, born in 1912, would be very happy to know the lost gown has finally been found and that her great-granddaughter, born in 2011, might someday wear it.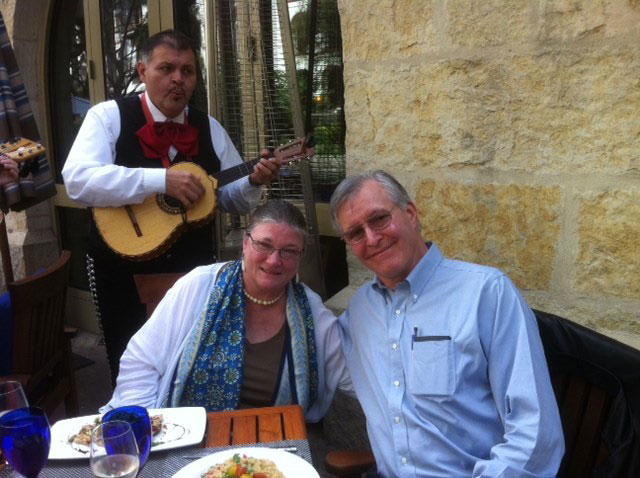 Barbara and Charles celebrating 45 year anniversary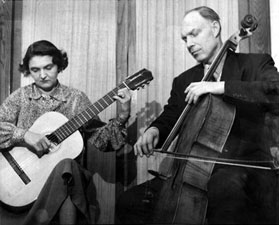 Barbara's mother Anne was a musician and seamstress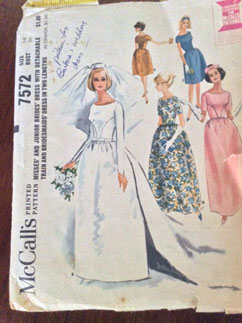 Barbara's Wedding dress pattern with note on pattern written by Barbara's mother