The Story of a Heritage Piece
by Barbara B.
This christening gown was brought to America from Paisley, Scotland by my great-great grandmother, Janet Hume. She was born in 1839. I can only assume that my great grandmother, Nettie Fitkin Bennett, also wore the gown. My grandmother, Myrtle Coates, would later wear the family heirloom gown in 1882.
Our Christening Gown Keepsake Box
The box that was used by my mother and possibly my grandmother to store the gown.
My Aunt Alice Aldrich Wearing the Gown in 1914
I wore the gown in 1955.
Our new grandbaby will wear it this year (2021). It has been handed down from mother to mother for the past 182 years. It has been painstaking…caring for the gown throughout the generations. This is a very old and wonderful heritage piece.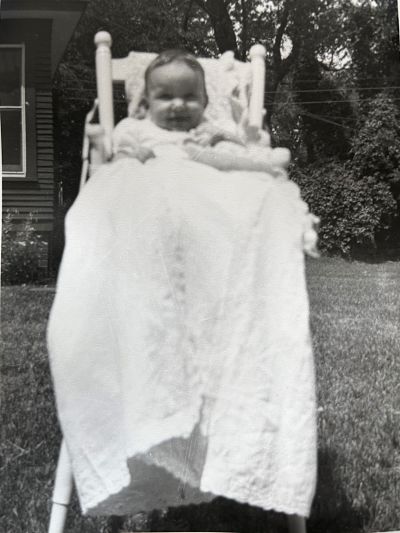 Barbara wearing the heirloom family christening gown in 1955
I wanted someone with a great deal of experience to look at the christening gown, as it had some holes and tears.
I searched for a company that specializes in repairing antique gowns and a number of companies came up. Heritage seemed to be the most knowledgeable with the most experience. I am so excited to see how it turns out.
Barbara's Hand-Made Cotton Baptiste Christening Gown
The 182-year-old, off-white gown has moderately discolored throughout. There are holes and tears in the front yoke, lace, shoulders and arms. The HGP Team will make all necessary expert repairs throughout the gown.
The Heirloom Gown Repaired
Barbara Writes:
Hi HGP Team,
Thanks so much for the exquisite work on the 1800's Scottish Christening Gown. It looks so good! We are very excited about taking the new baby's photo in this very old and wonderful heritage piece.
Christening Gown Cleaning and Preservation Package Details
Professional cleaning, pressing and/or restoration of your christening gown or outfit or other  infant clothing. This price includes treatment for two pieces. Additional pieces are $15 each. Return shipping is included.
Please send contact information, order number and garments to:
Heritage Garment Preservation
15852 FM 2493
Tyler, TX 75703