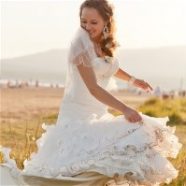 We would love to know your opinion about wedding dress cleaning  so we've created a survey and a little incentive to coax it out of you.  Enjoy a $20 discount good for any wedding gown cleaning, restoration and/or preservation just for answering a few questions about cleaning your wedding dress. Some of the questions we are asking in this survey are:
When your dress was last worn by a bride
The most important factor in selecting a wedding dress cleaner
If you are willing to have a wholesale cleaner clean your dress
If you are not preserving it, why not
We have made the survey especially easy because all the questions are multiple choice!  So there are no wrong answers.  We would just love your thoughts and opinions. So save $20 by taking our survey.