By Katherine Wright
5 Tips For Wedding Gown Cleaning and Preservation
Getting wedding gown cleaning and preservation for your wedding dress soon as possible after your wedding ensures that your bridal gown remains in the best condition. But, there are many wedding gown preservation options available, all claiming to be the best. It can be very confusing. This report is designed to help you make the best educated decision on the care of your wedding gown.
This report should only take about ten minutes to read and will cover why wedding gown cleaning and preservation is important, how museums preserve their heirloom dresses, the different cleaning solvents dry-cleaners use for wedding gown cleaning and the pros and cons of each one.  Also discussed are the goals of wedding gown preservation, the different methods used and the benefits of each.  So take a few minutes to learn before your decide who you should trust with your wedding gown care.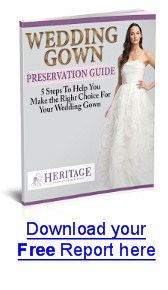 Learn about Heritage Garment Preservation – The Wedding Gown Preservation Company who provides TLC to your wedding gown.
Part 1: Why Clean and Preserve Your Bridal Gown? >>
Wedding Gown Preservation Summary
Print Wedding Gown Preservation Report
Click here for html print version. or Click here for pdf print version.
Wedding Dress Restoration
Learn about Our Restoration Services