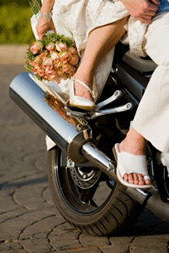 Whether you have a big budget for transporting just the groom and yourself, or have a limited budget and want to find transportation for your whole wedding party, there are many different options that can make your wedding exactly how you want it.
Unique Wedding Transportation Ideas
Although renting a limousine is a very traditional means of transportation for a wedding, getting a classic car wedding rental can allow for a little more creativity. You may not have the same privacy or space than a limo, but renting a classic car can be a flashy and fun experience- perfect for wedding photos. Most companies have one or two cars at a time to rent. Start by looking at rental companies around the area. If you find that there is not much variety, you may want to contact classic car rental clubs, such as Antique Automobile Club of America. There will be many more options there, just as long as the individual owners have insurance policies that allow for commercial use of their cars. Just be careful. Some brides have sat in these cars only to discover that there is dirt or oil on the seats, and on their white gown. One of the most important questions you could ask potential rental companies is, "how do you make sure that the interior of the car is clean?".
Finding cheap transportation for just you and the man does not mean just taking your car to each of the wedding locations. Have a friend you are both close with dress as a chauffeur and have him treat you as if you had rented a car. Or if you happen to know somebody who owns a beautiful car, they may be willing to chauffeur you for the day at a lower price than what you would find in an actual business. Who knows? They may just let you drive the car for the day! If you live in a big city, taking a bus or subway to your destination will make for some funny memories! People are bound to congratulate you! And remember, there is nothing like the feeling you get when you see that your bridesmaids and groomsmen decorated your car in a classic "just married" style. It may not be as flashy as a big limousine, but it is a great way for you to get all of the attention you deserve on your big day!
Wedding Transportation Ideas for Groups
Although it is not required to provide transportation for your guests, in some circumstances it would be most considerate to do so. For example, if you are having a destination wedding and the events are not at the hotel, guests will need a means to travel. Renting wedding shuttles is not only cost-effective, but it allows for large groups at a time to get to the wedding and quickly proceed with the celebration. Sometimes hotels have shuttles that are not being used at night and can be rented for a small fee. Checking with the hotel before shelling out the cash may be a great way to keep costs down. Also, if you are having a local wedding and parking is nonexistent or far away, providing transportation will make your guests even more happy to celebrate with you. In this case, some transportation for weddings can be both creative and relatively cheap. One bride's guests had to park at the end of a steep driveway. In order to save their guests a long walk, the groom's family rented two golf carts that would pick up and drop off guests to their destination. If parking at all is really out of the question, try some unique transportation for weddings. Party buses can hold up to 40 people at a time, and it is the perfect opportunity for guests to start having a good time and meet others even before the wedding has started. As always, make sure you guests know about these options and that you check your driver's credentials before the big day.
If you are on a tight budget and are in need for cheap wedding transportation, there are still many options. First, really choose wisely for the venue. Make sure it has lots of parking and that your guests will have rides. If your sister needs to pick your aunt up from the airport and take her to each event, do it. Relying on those you are closest to will make them feel like they are making your day even better. Also, a typical shuttle may be too expensive, but renting a school bus to take guests from destination to destination can be both cheap and make for some awesome pictures and a memorable day. These services are usually half the price as shuttles and party buses. If you cannot budget transportation for guests, just ask the wedding reception site to have taxis waiting on hand.
A Final Thought on Wedding Transportation Ideas
No matter what you choose, make sure you book your transportation about six months before the wedding. Especially in spring and early summer, prom and graduation season, it is essential that you plan well ahead of time. And when you are going over contracts, pay attention to minimum hour requirements and charges per mile. Having a strong idea of how much transportation should cost will save you from frustration on your big day. And don't forget to tip your driver!
For More Information
Tips for Wedding Ride
Ten Basic Wedding Transportation Tips
Inexpensive Wedding Transportation