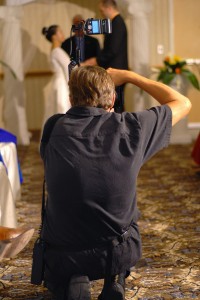 Choosing a wedding photographer is one of the most important decisions for your big day.  After all, as time fades your memory of that day, the only thing that will provide a clear picture of the sights of your wedding day are, well, pictures.
Having a clear idea of what is most important to you when it comes to photography is crucial before you start looking for a photographer. Are you most concerned with simply having photos of you, your spouse, and guests, and are not too worried about a style? Or is there a style that you absolutely love and believe that that style is going to capture the heart of your wedding day? Knowing which you prefer will determine the range of wedding photography prices you will need to be prepare to pay and will narrow down who you interview for your big day.
Wedding Photography Tips:
How to Choose Wedding Photographer
The three most important factors to consider when interviewing potential photographers are personality, style, and cost. Let's talk about each of them.
You will spend much of the most important day of your life with your photographer. This means that if they have a personality that just bugs you, that will stick with you for the rest of your life. In fact, one bride had a photographer who had just had oral surgery take pictures of her day. She was irritable and impatient. If you know that there will be a lot of children at your wedding, find out how a photographer is around kids. As you are interviewing them, ask yourself if they are someone you enjoy, someone who you can trust, and someone that you would invite to your wedding. If the answer is no to any of those, then don't hire them. There is nothing more stressful than feeling stressed by somebody that you don't even have ties with.
Spend some time looking at photographers' previous work to give you an idea of what their styles are. If you know that you will have a sort of rustic feel for your wedding, find a photographer that gives off that same feel. Once you have narrowed your list down and are meeting them in person (which is very important), ask to see a portfolio of their past work.
The cost of your photos goes hand in hand with photographers' styles. If there is a style you absolutely need, be prepared to drop anything from $1000-$4000, depending on the package and where you live. Some people believe that you shouldn't even worry about price since the photographs will be the only thing you can hold on to (besides the man) after the wedding. But most people do not have all the money in the world and need a budget. If the photos are the most important thing for you, simply skimp in other areas. A bad photograph can make a luxury gown appear terrible, just as a great photograph can make an inexpensive, plain gown glorious! Check this out for a great discussion on weighing the costs and benefits of price vs. quality.
Wedding Photography Tips:
Ideas for Poses
Your wedding photography poses do not have to be the same, typical "everyone line up and smile" kind of shot. In fact, some wedding photography ideas manage to be both creative and beautiful.
A photo of the hands of three generations of women, each with their wedding ring on.
An aerial shot of your wedding guests circling or making a heart around you and your new spouse.
Photos of your bridesmaids looking toward you as you look into a mirror. Watching your friends watch you see yourself as a bride for the first time is an incredible moment for all of you.
A shot where you are using your veil in creative ways, including a kiss with your spouse and a flower girl playing beneath it.
A picture of your dad first seeing you as a bride.
An aerial view of your first dance together.
Funny, bored or surprised looks on guests or members of the bridal party
Anything unusual, such as doves being released, a fun get away car, etc.
Angled shots give a standard photo a fun new dimension
No matter what kind of shots you want on your wedding day, make sure you have a thorough wedding photography checklist for your photographer. If you can provide them pictures of what you are looking for, this will make it even more clear. Check this out for more wedding photography ideas.

Wedding Photography Tips:
Responses from brides
We asked some of our brides what kind of tips they would give future brides. Here are their responses:
"Don't have a family member or friend do it. I did and she showed up late to our wedding among other problems."- Megan
"Don't assume a photographer understands your religious or ethnic culture, especially when it comes to weddings."- Corri
"A tip I have, is make sure the photographer or a helper makes sure the bride is at the best angle to show off her figure. Not usually straight on. Men should be facing straight on to look more manly/masculine."- Ally
"Make a list of photos you want to have taken and give it to your photographer before the big day so you won't forget any of them. And if you have divorced parents, consider doing family shots with each parent's families rather than just all together. It's going to be awkward no matter what."- Lauren
"Don't get the cheapest photographer, pick a style you like. Find a photographer. It's worth the money!"- Maci
For more information:
Creative wedding poses
Questions to ask your potential photographer
How not to choose your wedding photographer