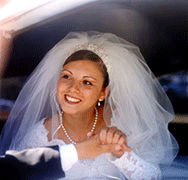 With all the excitement of your wedding day, you may not give much thought to keeping your dress in good condition. After all this is a celebration! But if you love your wedding dress and hope that someday your sister, friend or even a daughter will wear it, then you may want to take some precautions to keep it in good condition.
When traveling, be certain your skirt is all the way inside your vehicle before shutting the door.
Unless you are using a professional limo service or just had your car detailed, lay a clean sheet on your car seat to be certain there are no substances that may transfer onto your gown.
Lift your train or bustle your gown as you walk about. Even if your wedding is indoors, remember, your train is like a great big dry mop that will slide around and "mop" the ground or floor. How clean is that floor? It is usually not as clean as you might think. So, pick up or bustle your gown!
If your dress is polyester or nylon and you spill food or wine on your dress, go ahead and rinse the food or wine out with water. Blot dry with a clean towel.
If your dress is silk, rayon or acetate, carefully blot out any food or wine spills with a dry towel. Do not rub. If that is insufficient, use a damp cloth to blot the spot and dry with a clean towel. You may use the spot cleaner included in your Emergency gown Care Kit, but be aware that silk satins often leave water spots. So consider the risks before attempting spot cleaning on silk. Never rub silk satin when wet as it can be permanently damaged.
Order a Wedding Day Gown Care Kit for those unexpected emergencies. Our kit includes a cleaning wipe, 2 bridal gown buttons, 2 safety pins, a pre-threaded needle, and comes in a dainty, satin draw string bag. Just add your lipstick and you're ready to go.
In a pinch, mask a spot if unable to clean it. Use baking powder, baby powder, etc. Do not use white out or shoe polish or any other permanent treatment.
Take your dress to be cleaned as soon as possible. The longer a stain remains on the gown the more difficult it is to remove. So don't delay.
Get your instant wedding gown cleaning 
Estimate
 or call
866-268-4696
to talk to one of our friendly staff members.
Taking some precautions during your wedding activities may help you to restore your wedding gown to its pre-wedding condition afterward. And be prepared for emergencies. You know what they say…"When you are prepared, you need not fear."
Receive a FREE Estimate today for your professional wedding dress cleaning and Museum Method wedding gown preservation.