Description
Heritage Select™
Cleaning and Preservation


Standard Service Package
All fabrics & most gown styles
Hand cleaned or dry-cleaned in virgin solvent
Steam and hand pressed
Additional charges for very dirty hemlines, extreme stains, metal buttons or gowns requiring non-standard care
Minor repairs included
Free Shipping
Pre-paid shipping label emailed to you (shipping kit available for $20)
Drop off dress at local FedEx center
Preservation Benefits
Wrapped in acid-free tissue
Preserved in archival bag or box
30 year warranty
$498


Read Reviews
First Step – Choose Your Preservation
Museum Method™ Preservation – $498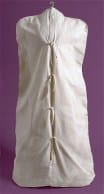 Acid/lignin free
Easily stored in closet
Protected from dust and light
Easily inspected and admired
Dress can breathe
Does not need refolding
No permanent creasing
Best air circulation
Needs less maintenance
Heritage Box™ Preservation – $498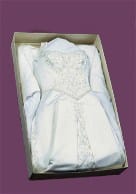 Acid/lignin free
Stores under most beds
Protected from dust and light
Can be inspected and admired
Dress can breathe
Should be refolded periodically
No Preservation (Cleaning Only) – $374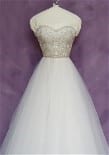 Gown hand cleaned or dry-cleaned in virgin solvent
Steam and hand pressed
Hung on bust-form
Returned in garment bag
Second Step – Select Accessories and Upgrades
After adding your desired service to the cart, select upgrades and accessories.
Next – Be Aware
Heritage Select™ orders may accrue additional charges ($50 – $250) for needed special care due to very dirty hemlines, severe stains, metal (backed) or wood buttons or for couture style dresses requiring non-standard care (i.e. three dimensional appliques, feathers, unfinished edges, hand painted designs, etc.)
We will contact you by phone and/or email to discuss any up-charges we recommend for your gown after it is inspected. You will not be charged for added care unless you approve it.
Questions about your gown? Call us at 866-268-4696 or send an email with photos to gowncare@heritagegown.com
Repairs
Expert repairs are available for an additional fee for Heritage Select™ gown care orders.