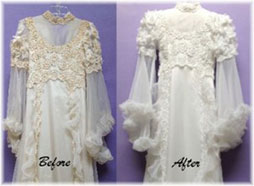 Let us give your yellowed wedding dress premium wedding gown restoration
 to restore it to a beautiful off white color. Our
wedding dress restoration experts
will remove yellowing and oxidation spots. You will enjoy the peace of mind knowing your vintage wedding dress will receive our tender loving care.
Our Heritage Couture™ wedding gown restoration includes all shipping costs and a shipping kit as well. You can choose to also have your wedding gown preserved with either our Museum Method™ or Heritage Box™ preservation.

Heritage Couture Wedding Gown Restoration Benefits
Recommended for Silk and Couture gowns
Hand cleaned or dry-cleaned in virgin solvent.
Hand pressed
All accessories included*
Select "Clean only" or choose between: Museum Method™ and Heritage Box™ preservation
Free Shipping
$500 shipping insurance included
5 Year Warranty
Wrapped in 100% museum quality muslin
All hemline conditions and embellishments
Shipping kit included
Courier pick up included
Wedding Gown Restoration Video
Heritage Couture™ Bonus Package ($299 value)
2 maintenance treatments included 7 year intervals ($200 value)
3 hours of repairs  ($99 value)
Compare with Heritage Select™ – Wedding Gown Restoration
*Accessories include veils, shawls, gloves, bolero jackets, slips, jewelery, and headpieces.  Shoe cleaning and preservation additional charge.We will send your shipping kit and instructions via FedEx Monday through Friday. Local customers call 866-268-4696 to schedule gown drop off.