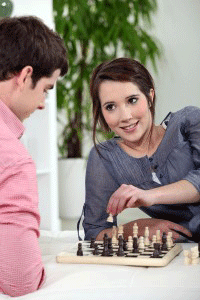 One of the biggest changes after marriage is being with your spouse every spare second. Of course, this is also one of the main reasons you got married! The amount of time you have together changes throughout your marriage, but throughout the years,  you should spend some of that time together doing fun activities for couples. Whether it is just the two of you, or spending time with other couples, there are many options on how to keep the fun in your marriage! Much of this fun comes from sharing the activities you enjoy by yourself and allowing your spouse to try them out!
Unique Fun Activities for Couples
1. Celebrate a your friends' engagements by throwing a Couples Shower! This is a great idea if you are looking for some kind of project to work on together. Throwing a shower with both your guy and girl friends also gives your single friends a chance to meet each other, which could potentially lead to some great double dates! You may have had your own wedding shower with just the girls, but showers for couples are becoming more and more popular as men become more involved with "domestic things." Some fun games for couples shower include question games for the bride and groom to see which person knows the other better. Or try a Pre-newlywed game. Fun couple question games are a great way for guests to learn more about their friend's fiancee! To keep the party friendly for both genders, try a fun theme like famous couples or a Moroccan theme! Couples showers are the perfect opportunity to get your friends' ideas for fun games for new couples. When guests arrive, have them write down an idea for a fun activity that the newlyweds can do together. By the end of the night, your guests will have created a gift that could be the start of some family traditions.
2. Realize that many fun activities for couples do not require money. Going to an event that your town is putting on or listening to a podcast on a subject you are both wanting to learn about is a fun and inexpensive way to spend time together. Other fun free activities for couples include baking a loaf of bread together and teaching each other a skill (like giving pedicures and changing the car's oil). These activities are the perfect chance to enjoy just spending time together and learning new skills.
3. Board games and card games for two are inexpensive and you can play them for years.  Games such as chess, checkers, Battleship, Obsession, Master Mind, Mad Gab, Backgammon are all two player games.  You can find  a list of more two player games online.  Two player card games are abundant and fun.  You can find a whole list of two player card games here.  Just click on the name of the game and you will find instructions.
4. Spend some time playing fun games for couples online. You may have a difference of opinion and skill when it comes to playing computer games, but doing so is becoming more and more popular and is a great opportunity to have fun together. You may have different experiences on the type of games you play, but playing each others' favorites is an inexpensive way to share a common activity. Or if you are ready to splurge,
For More Information on Fun Activities for Couples: