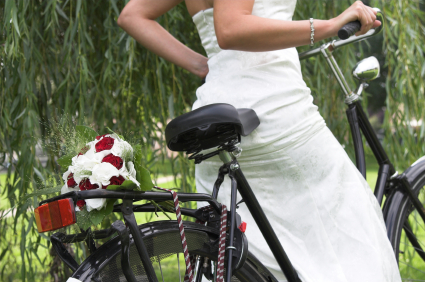 Have you arranged transportation for your wedding day? Unless you are getting married in your home, you will have to travel to your wedding in some fashion. Should you dress at the wedding location? Or show up ready to say, "I do."
If you haven't made your transportation plans yet, consider these stylish ways to arrive:
Horse drawn carriage
Classic auto
Luxury car or convertible
Horseback
Limo
And for the more adventurous types…
Motorcycle
Helicopter
Skydive
Arriving Dressed to Your Wedding
Depending on your mode of transportation, your dress will encounter different hazards. If possible, be sure the vehicle has been cleaned before your wedding to avoid soiling your gown as much as possible.
You might want to choose a polyester wedding gown if you are considering an unusual mode of transportation, as polyester will seldom show wrinkles, and you can touch up any wrinkles or stains quite easily. Be aware that silk fabrics wrinkle easily and are not easily cleaned. Do not rub silk satin while it is wet, as it can be permanently damaged. You can bring along a portable iron if you anticipate your gown will need touch ups and you will have access to electricity. (Bring an extension cord and a towel to place inside the gown if this is your plan.)
Dressing at the Wedding Location
If you choose to dress at your wedding location, you should be able to give your gown a quick press if necessary before dressing. But unless the wedding chapel provides it, you had better bring an iron with you. If your gown is silk, be sure to remove all the water from the iron or it may sputter and leave a water spot.Just use a dry iron for the touch up pressing.
What about the weather? Keep in mind Murphy's law: Whatever can go wrong will go wrong.Accept the possibility and be prepared that it may be raining on your wedding day. So you had better transport your gown in a plastic garment bag just in case. If possible, apply your make-up and have your hair finished before dressing. Step into the gown instead of pulling the gown over your head. If you need to touch up your hair or makeup after dressing, cover your gown first to protect it from hairspray, dropped mascara or lipstick, etc.Your hands may be a bit shaky!Do your best to protect your gown, but if your cousin spills dessert on you, just laugh it off. It will make a great story you can enjoy for years to come.To protect your gown after your wedding, be sure to have it cleaned and preserved right away.
Get your FREE Quote today for your professional wedding dress cleaning and preservation.
© Copyright 2016 Heritage Garment Preservation