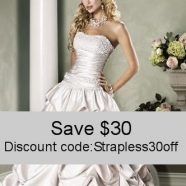 Is your wedding gown strapless or have thin spaghetti straps? If so, you're in luck– during the month of February you can enjoy $30 off your wedding gown cleaning and/or preservation with coupon code Strapless30off on a strapless (or almost strapless) dress!
You can choose wedding gown cleaning, cleaning and preservation, or restoration of an aged, vintage wedding gown. Choose any of our services and save $30 on your cute strapless gown!
How to Order and Use Wedding Gown Preservation Discount
Get your quote for your wedding gown preservation costs
Add desired service into cart
Add coupon code to cart: Strapless30off
Pay now to pay later (you can even set up payment plan if you would like)
We will send you shipping instructions and prepaid FedEx label by email (or ship your shipping kit to you if you order one or order Couture service.)
You ship your wedding gown to us and we will take it from there!
We use FedEx signature delivery which means we have to sign for it when it arrives here and you sign for it when it returns. It is never left on a door step.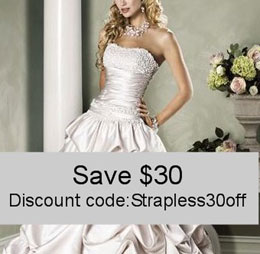 Other Wedding Gown Preservation Options
If your wedding dress is not strapless, don't despair. Check out our other discounts…
Check out our wedding gown preservation reviews
Museum Method Wedding Gown Preservation Kits