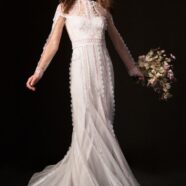 It's that time of year… holiday sales! Whether it's Black Friday, Small Business Saturday or Cyber Monday, you will find the best deals everywhere…So enjoy one of our best sales ever!
With a minimum purchase of $298, you can save $40 – $100 with 15% off Heritage Select™ and Heritage Couture™ Packages.
Use discount code: BlackFriday2020
Get your gown care quote at:
Happy Holidays from Heritage Garment Preservation!