Got Silk?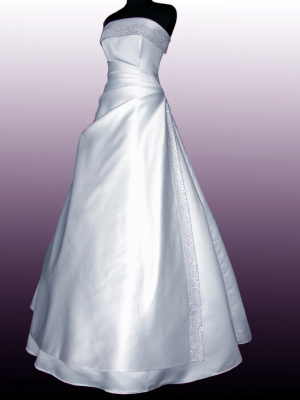 Is your wedding gown made of silk? Silk fabric is elegant, gorgeous, drapes fluidly, and as a natural fiber, is very comfortable to wear. But you should also be aware that silk requires more care than synthetic fabrics.
Cleaning Silk Before Your Wedding
Are you considering having your gown cleaned before your wedding? Perhaps you bought a sample gown that has been tried on many times or you may want to "clean it up" from all of the handling during alterations. If this is the case, you need to be aware of some risks involved in cleaning silk.
Sizing and Silk
Some silk satin wedding dresses are made of a light weight silk that has been disguised as a heavier silk using excessive sizing. Sizing is a starch like substance used in the fabric manufacturing process to help give fabric body. Heavily sized gowns may feel and look different after they have been cleaned. Some of the sizing is removed during cleaning and consequently some of the crispness may also be removed.
Less sizing is generally removed with dry-cleaning than with wet cleaning, although all cleaning will remove some sizing. If you suspect your gown is heavily "sized" you may prefer to have your gown spot cleaned instead of dry or wet cleaning before your wedding. Or if it really is essential that your gown is cleaned, be aware that it may look and feel slightly different afterwards.
Cleaning Silk After Your wedding
After your wedding you will want to return your gown as close as possible to its pre-wedding condition. Your dress will probably have some soiling at the hemline, and it may have some food spills from your wedding and reception.
There are some substances that are not removed with dry-cleaning solvents. Sugar substances and perspiration require wet-process cleaning or thorough pre-treating. If your gown has any stains from beverages or other food, be sure to point them out carefully to the cleaner to be sure they are pre-spotted. If your gown has excessive perspiration, point that out also.
Don't Procrastinate and Don't Panic
Whatever you do, don't procrastinate care for your gown too long. Substances left on your gown will eventually oxidize, turn brown and become more difficult to remove. However, waiting 3 - 6 months can also be a good idea, as you may more easily identify potential stains as they begin to oxidize. Once identified, they are more easily removed.
At Heritage Garment Preservation, your silk gown is handled with great care. We use wet process cleaning for the silk gowns that can be wet cleaned without difficulties. This process removes most all stains thoroughly including sugar substances.
When a gown cannot safely be wet-cleaned we dry-clean with virgin Hydro-carbon solvent or spot clean. We also utilize infrared lights to locate sugar substances and remove them before dry-cleaning. When necessary, we may determine to spot clean to avoid damaging fragile trims.
Get a FREE Estimate today for your treasured gown and Pre-order your wedding gown preservation. When you pre-order, you will receive a FREE Emergency Gown Care Kit with your shipping box and pre-paid UPS label. You will also gain peace of mind knowing that you've taken the proper steps to care for your treasured gown.
© Copyright 2007 Heritage Garment Preservation
Want to use this article in your ezine or web site? You can as long as you include the copyright notice above and the following copy: This article is part of the Wedding Gown Care Newsletter series created by Heritage Garment Preservation. Register for your Free newsletter at: heritagegown.com/thanks/newsletter.php